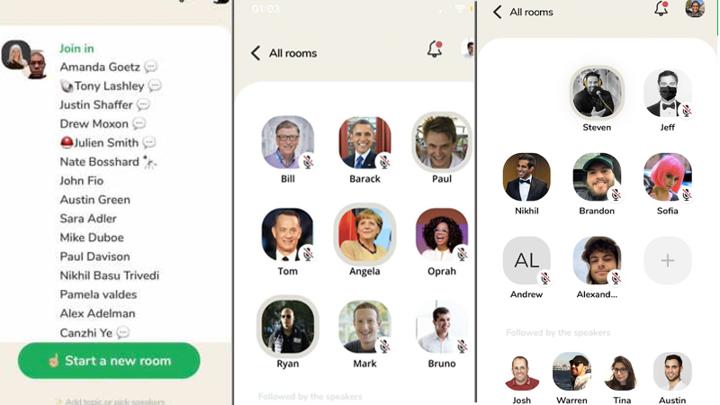 It seems like every week there's a new app that completely disrupts how users -- especially Gen Z -- interacts with social media; Clubhouse is the latest example. 
What is Clubhouse?
Clubhouse is a new platform that fully invests in the power of voice. In other words, Clubhouse allows users to share -- in real time -- their thoughts, ideas, and feelings in moderated chat rooms that can cater to just about any interest or niche. 
It's basically an open-mic or live podcast, where everyone's voice can be heard no matter how much "clout" they have or their stature. Unlike Twitter or Instagram where influencers or celebrities can filter out who they can speak with, Clubhouse offers the rare opportunity for fans to directly interact with their favorite artists and creators -- all through voice. 
Additionally, once the chat ends, it disappears, much like Snapchat. 
Why is Clubhouse so Popular?
Remember being at parties? Clubhouse aims to revitalize that feeling users can drop in and out of myriad chat rooms dedicated to any topic. From building successful businesses to haircare, to a chat about technology with Ashton Kutcher, there's no limit for a user to talk about whatever they want to do. Whether the user is the know-it-all or just someone who wants to chill and learn from interesting people,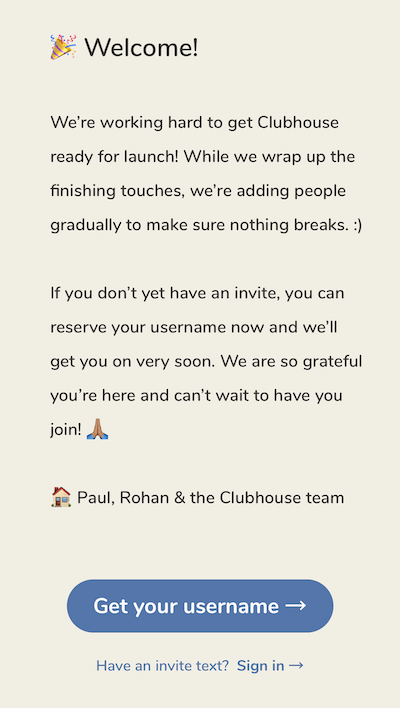 Clubhouse offers the kind of hazy freedom that going room to room at a live party feels like. As quarantine continues, this actually gives users a chance to be part of a community and forge real connections, much like networking. 
Who Made Clubhouse?
Clubhouse was founded on May 15, 2020 by Paul Davison and Rohan Seth. Their valuation is currently at $10M and they've raised a Series A led by prime time firms like Andreessen Horowitz  
How do I get into Clubhouse?
One thing that's generating buzz for the app is how exclusive it is. You can't just sign up for it, you need to be invited.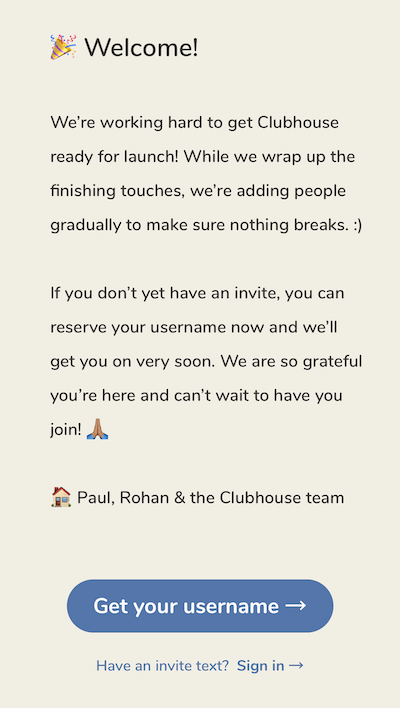 Everyone who joins Clubhouse gets one invite to send to someone, so if you have a big network just post on your Facebook or LinkedIn and you might get one. 
If you can't score an invite, you're going to have to reserve your username. If you have enough friends already on ClubHouse, you'll be placed higher in the queue. 
How can I use Clubhouse to promote my business?
Host branded events
Find a key influencer in your industry and have them moderate or host a discussion on Clubhouse.
Create a club for your brand and offer free trials or perks to your userbase that participates in your clubhouse sessions.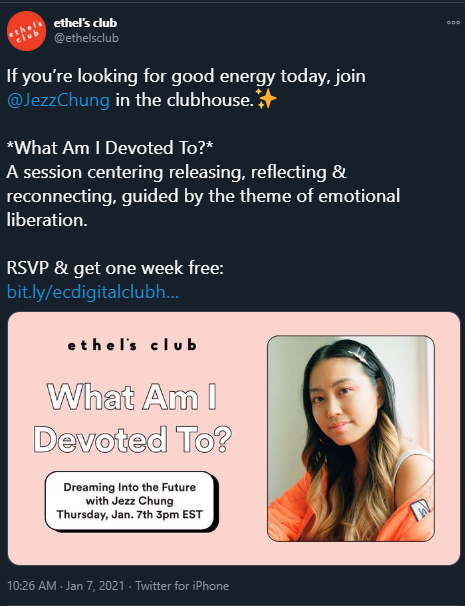 Connect with experts in your industry
Clubhouse features tons of open chat rooms that can cater to any specific interest: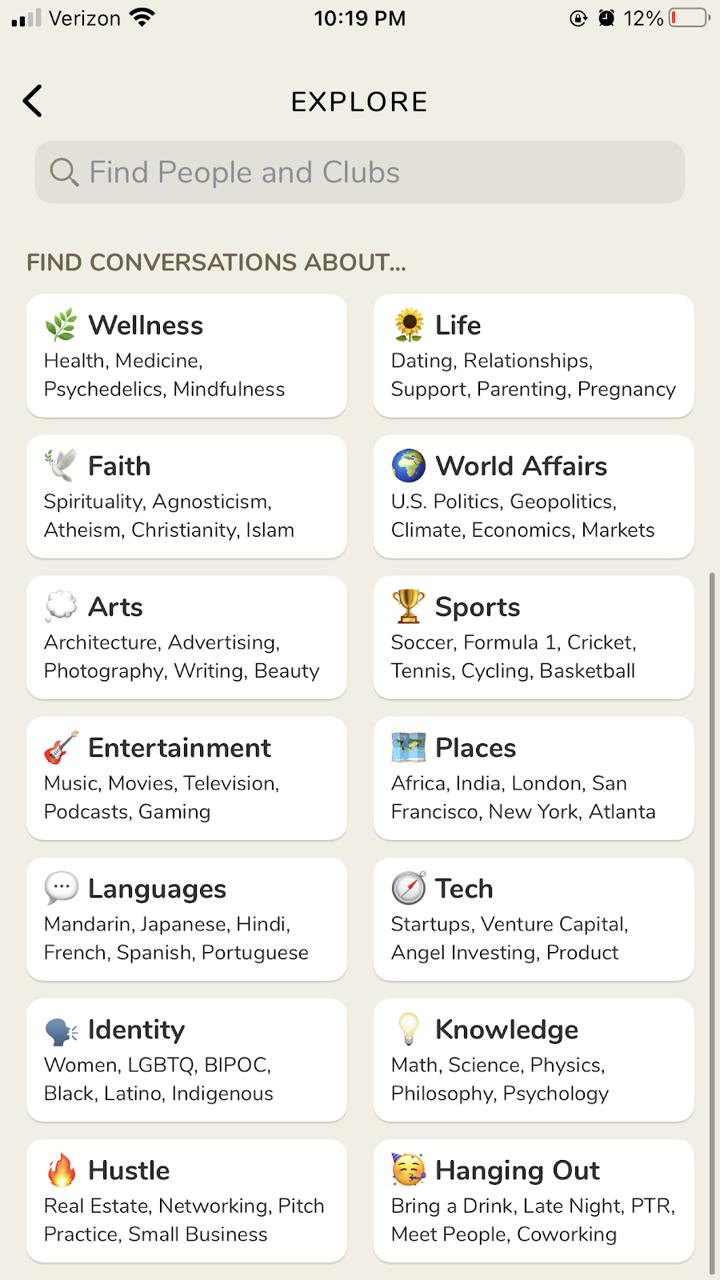 Join a conversation about your industry. Who knows, maybe a potential client or investor is in the room looking for an answer to a problem that your company can provide
Curate Content 
Although it's strictly against the rules to record any conversation on Clubhouse, you can absolutely start a room yourself and let people know your intentions to record in the room description. From there, feel free to invite creators or clients you might be working with to ask them candid questions about their business.
You can easily wrap up all the key learnings in a quick blog post to solidify yourself as a thought leader.
Does Clubhouse have staying power?
There are a couple of things that can raise some concerns about the burgeoning social conversation app. 
One: how much does it owe its popularity to a degree of FOMO? Once Clubhouse eventually gets a public launch, will the hype die down? It's hard to invest time and effort into an app when there's no certainty of its future, especially when other tools like Discord can serve the same community-building niche. Their key to success will lie primarily in if they can continue to curate great content from celebrities to draw influencers in. The idea of egalitarian access is what makes the app special in the first place. 
Two: Clubhouse is chaotic! Lots of strong personalities mean strong egos can clash, and anyone listening in could be live-tweeting any utterance or saying way out of context. So if you're going to be an active participant in a Clubhouse conversation, make sure you stay disciplined and on message, and don't let anyone goad you into saying something edgy or controversial. If not, Clubhouse is still a great tool to listen and learn. 
Remember, think of it like a networking event, you still want to present your best self. 
If you think you're ready to dive into the world of influencer marketing, don't hesitate to reach out to us!