2020 was a tough year for everyone, including marketers. With an ongoing pandemic, brands large and small had to rapidly shift their expected strategies in order to maintain some semblance of profitability. 
What everyone quickly found out, however, was that e-commerce was nearly impenetrable. Take a look at this figure from the OECD: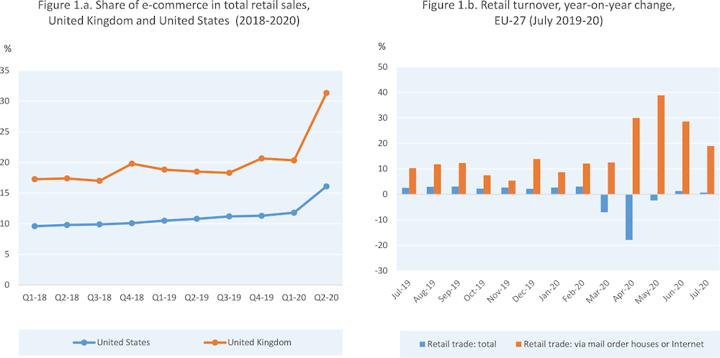 E-Commerce sales in 2020 were exponentially greater than they were in 2019. And, with an ongoing quarantine as we head into the next year, it will only become more prevalent. 
What does E-Commerce look like in 2021? 
A competitive digital space is only going to get more competitive. Try to search for your brand on Google right now. How many of those first results are sponsored posts from your competitors? If you're in a particularly saturated space then organic results might not even appear until the very bottom, meaning you could very well appear on page two or three. 
As a result, ranking first in organic results on popular marketplaces such as Google is going to take an even greater commitment with regards to spend. In fact, in lieu of more traditional means of advertising or in-person events, digital will represent 51.3% of total US ad spending by 2021, with e-commerce ad spend rising by as much as 115% (Q3 2019 vs. Q3 2018)!
Not only will E-Commerce continue to dominate spend, but it will also be more integrated with the digital experience. The majority of the more than $122 million in revenue generated by Douyin (TikTok's parent company) last year came via E-Commerce integrations.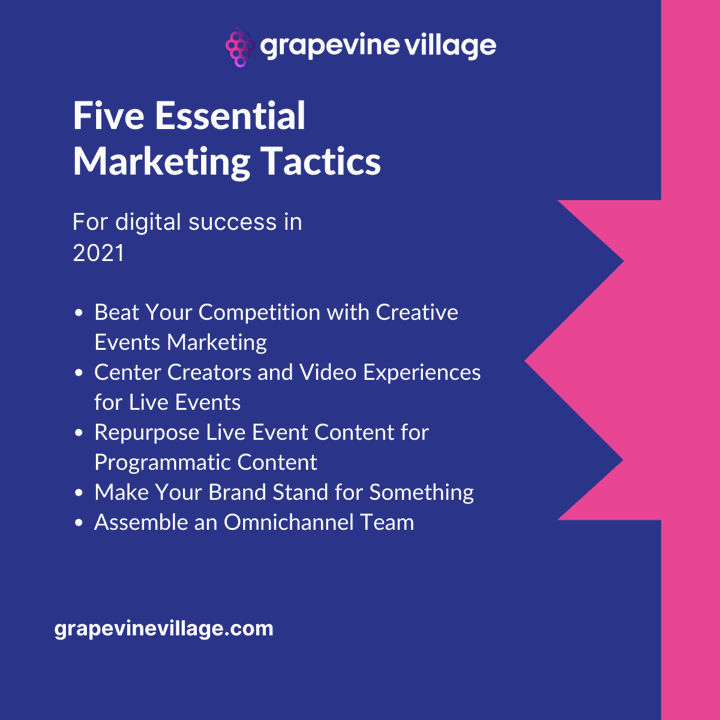 After a year of legal challenges, TikTok will charge full-steam ahead with e-commerce experiences to ensure its creators get a bigger share of the revenue from the audiences they've built. However, not every brand has the juggernaut budget to hire top TikTok stars or to build effective CPC campaigns as Allbirds or Nike might have, so how can a brand effectively adapt? 
Take a look at brands like LL Bean. LL Bean invested heavily in an omnichannel strategy that allowed them to quickly reach and capture displaced customers where they were. 
The key for marketers in 2021 - and any year, really -- to rebound and thrive is to build an omnichannel marketing plan that offers brands the kind of resilience to weather any storm. 
For the upcoming year, here are key components of an omnichannel strategy that brands will need to consider for their marketing plans: 
Beat Your Competition with Creative Events Marketing
The best brands are built on the relationships that target customers can build with brand representatives. Events marketing will forever be an important part of the marketing stack, so how can marketers adapt to hosting events that respect quarantine and isolation? 
The average "Zoom Happy Hour" just isn't going to cut it. So while marketers should continue to host webinars and virtual lunch and learns, there are plenty of opportunities to disrupt the space and position your brand as truly unique.
Try baking in a layer of interactivity to your events marketing. Whether it be doing a live wine tasting or playing a game of Among Us, try to build memorable virtual experiences for your customers. For truly integrated experiences, it's useful to look to the past. 
Center Creators and Video Experiences for Live Events
Platforms like Twitch, IG Live, and YouTube TV offer compelling ways for creators to directly connect with their fans and followers. Live-streaming will become more popular as quarantined fans seek to make human connections. Smart brands should partner with creators that appeal to their target demo by sponsoring a live stream. The best brands will go even further and develop programming with their influencers like the celebrity infomercials of old. 
Have an influencer try on your products or food -- live -- for their fans to see and react to. Additionally, it might also be worth having a representative for your brand to speak with the host to answer questions about the product directly. Make sure to record events like this, because events are just a part of your OmniChannel Strategy. 
Repurpose Live Event Content for Programmatic Content 
As OTT options expand such as Amazon Fire TV or YouTube TV, traditional television ads will be displaced by digital ads making their way into self-serve platforms such as Amazon's CPC, YouTube TV, etc. 
Content in 2021 will feed into nearly every channel thanks to this. A high-quality screen recording of your live events can easily be sliced into short snippets that you can leverage for YouTube pre-roll and mid-roll ads that can be served directly to consumers watching their favorite programs on TV. You can also serve these ads on Instagram Stories as well to drive further eyeballs to your products. In fact, User Generated Content has been reported to help 45% of marketers increase their social metrics overall. 
Make Your Brand Stand for Something
Why should I support this brand over another? Is a question that a lot of people will be asking themselves as we further adjust to the new normal in 2021. In fact, according to Zeno's 2020 Strength of Purpose survey, "when consumers think a brand has a strong Purpose, they are 4.1 times more likely to trust the company." 
In addition, data from the 2019 Porter Novelli/Cone Purpose Biometrics Study shows that 72% of Americans say they feel it is more important than ever that the companies they buy from reflect their values. 
In these uncertain times, consumers want to feel like they are contributing to something meaningful with the dollars they spend. This could be as simple as donating 10% of your profits to a non-profit organization aligned with your brand or even sponsoring an event. 
From curating influencers to creating content to partnering with social causes, you'll want to make sure that your brand is accurately reflecting the social values of your best customers. 
Omni-Channel Strategies WIll Require Omni-Channel Talent
Factoring in all of the above trends, marketers in 2021 will need to:
Curate influencers and negotiate fees and licensing agreements to post content on YouTube 

Build and monitor paid advertising campaigns across YouTube, Instagram, and Facebook

Forge strategic partnerships with organizations for cause marketing 

Program, schedule, and promote events 

Develop SEO rich content to post on a consistent schedule across relevant channels 

Build a community to bring consumers closer to the brand 

Analytics skills to determine if your messages are resonating
Unless you have an infinite budget for talent and a top-notch talent acquisition team, there are going to be gaps in your brand's skillset. This means that marketing talent may be more difficult to keep purely in-house. With the increased popularity of sites like Fiverr, brands will need to look to the gig economy and marketing agencies in order to fill the gaps they need to execute a truly Omni-Channel Marketing strategy.
If you think you're ready to dive into the world of influencer marketing, don't hesitate to reach out to us!