Q4 Online Sales for 2020 are set to be the biggest we've ever seen. 
Why? For the first time in history online advertising spend has surpassed Traditional advertising. As the Washington Post says, "this platform is rich with shoppers…."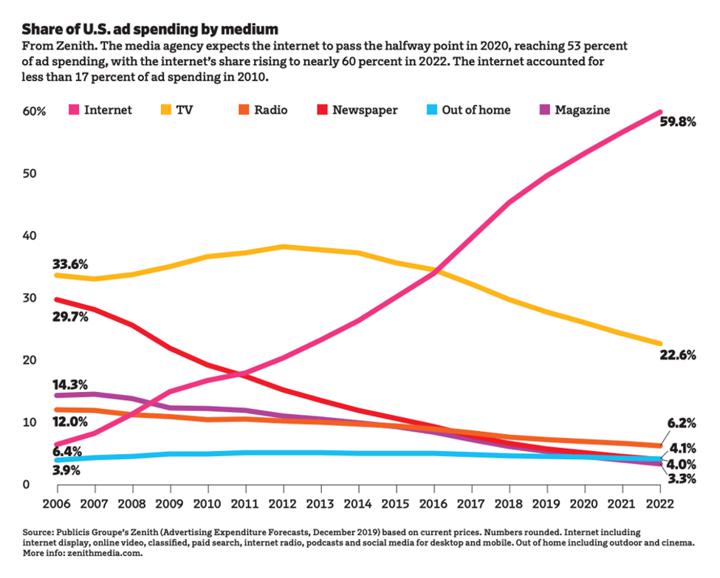 Even companies such as Walmart are changing their systems to be more focused online. With social interaction scares and the customers psychology changing during this quarantine now, is the time to adjust your business as well. 
Does that make online advertising better than traditional advertising? Simply put, yes. The reason lies in the data. In this article we will explain how to set up your business for successful holiday advertising campaigns, how to leverage the data of these platforms, and how success in Q4 can lead to a successful 2021. 
Success in Online advertising
Facebook, Instagram, and Google are the kings of online advertising. They rule because they have the attention of your customers. To understand how to be successful on these platforms you need to understand the main difference between these online advertising platforms and traditional platforms.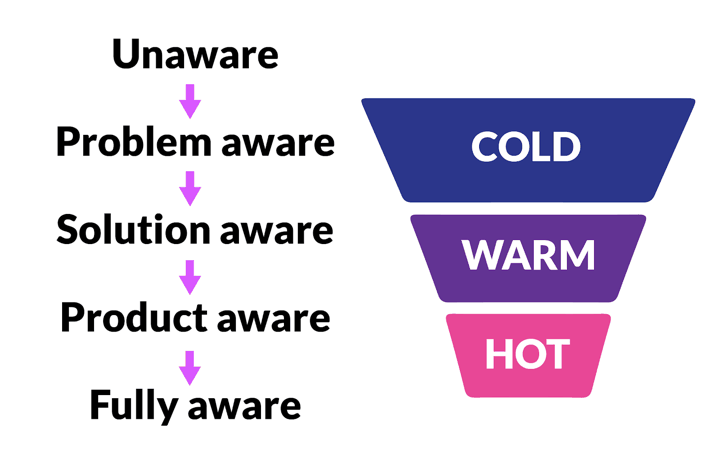 The two main differences are your ability to target customers and the ability to rapidly test multiple different advertisements.
Targeting
 for Digital Ads
Let's start with finding your desired customers. Google is straight forward. Target keywords that resemble your product or service and add negative keywords over time to ensure you are honing in on your desired customers. Google is an easier platform to find success because customers are coming to you. As they look up certain keywords they are reaching out for a company like yourself. This makes the customers easier to close, but as a business owner you are limited by your customers interest. 
Social media opens up a new world of potential customers because you are actively going after them. You must understand this change of sales psychology to create ads that will be successful. You must also take into consideration where your potential customer is in your sales cycle. Are you talking to cold customers who have never engaged with your business, are you talking to warm customers that have engaged with your business but have not yet purchased, or are you talking to hot or current customers that have already purchased from your business?  
Warm and hot customers are the easiest to engage and where a bulk of your success will come from with advertising on Facebook and Instagram. These audiences are created by correctly installing the Facebook pixel to your site, setting up Facebook events with your pixel, and understanding where your customers stopped in that sales cycle. 
PRO TIP: Make sure you are excluding your purchased audience when trying to target your warm audiences and cold audience. Exclusions are what will truly refine your advertising strategy. 
Cold audience is the most difficult to close but will have the highest upside. A cold customer has an unlimited potential for lifetime value in your business. So, if you can master targeting and closing cold customers, you will see exponential growth! 
Cold audience can be defined as customers targeted by demographics, location, interest, and Facebook's lookalike audience, as long as you exclude all potential customers that have engaged with your website or social media. If you do not make these exclusions Facebook will naturally show your ads to your followers and website visitors under the thought process they are more likely to engage with the ad. This will  waste your hard earned ad spend. 
So how do you find success targeting cold audiences? You test, test, and test some more. Long gone are the days of putting one advertisement out there and hoping and praying for success. With Facebook and Instagram ads you must launch hundreds of ads targeted to multiple different audiences and simply turn off the audiences and ads that are not showing success. We will get into testing ads, but first let's explain how to test cold audiences. 
You can create multiple different, highly defined audiences and test them against each other. You can define the audiences in a more traditional way such as gender, age, and location, but Facebook and Instagram have an added layer of targeting that when used correctly yield the highest return. 
Interest targeting is targeting a customer but what they have shown interest in on their social platforms. There are millions of different interests and the ability to refine the interests with layers. Let me give you an example, say you're an online clothing store that sells Los Angeles Lakers memorabilia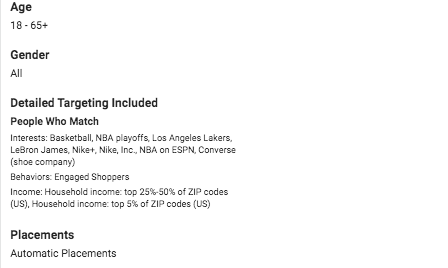 You can target "engaged shoppers" and layer that engagement with the "Los Angeles Lakers" interest. This means your ad will be shown directly to potential customers that have recently made a purchase online and have shown an interest in the Lakers. With millions of different interests the possibilities for targeting are endless, but don't get flustered, just test and turn off the non successful audiences. 
PRO TIP: You should have one ad set or audience for hot traffic, one ad set for warm traffic, and multiple ad sets for cold traffic. Continue to test different audiences to find out what customers truly resonate with your business! 
A Blue-Print for Successful Advertisements
Once you know who you are targeting then you have to create ads that resonate with that potential customer to get them to click through from social media to your website. Within each ad set or audience we recommend a maximum of 5 advertisements. Any more than 5 ads will create an uneven distribution of ad spend giving you skewed analytics. 
Each Instagram and Facebook ad are made up of 5 aspects; Graphic, Headline, primary text, call to action, and description. Studies have shown that the graphic is the first thing the customer sees and must grab their attention, or as us marketers call it, "stop the scroll." Then the customer will read the headline and if they are intrigued by the graphic and the headline they will read through your primary text. Finally after resonating with your text they will click your call to action, the description is normally ignored.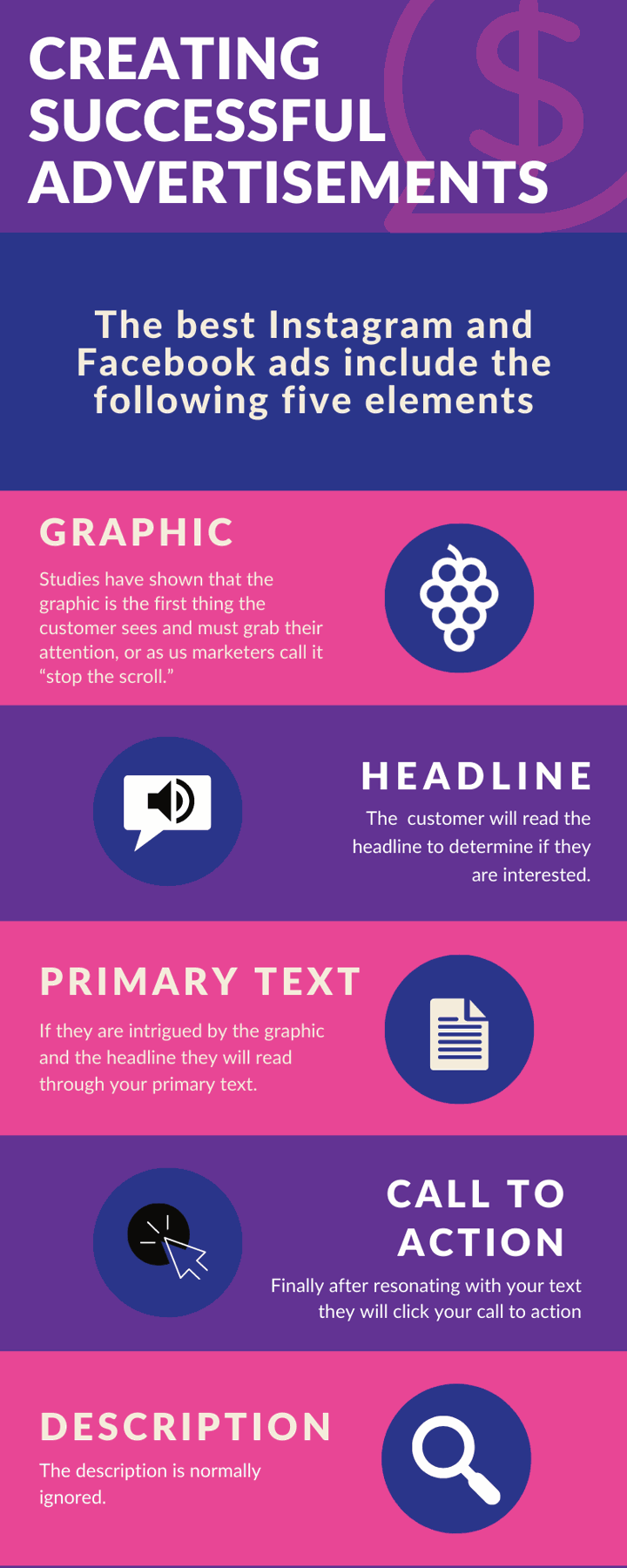 Each aspect of your ads need to be tested to find the highest level of success! For graphics you can test still images, videos, and carousel ads. For primary text test short copy, long copy, social proof copy, storytelling copy, etc. The best performing call to action button is learn more, but shop now and see menu have also proven successful depending on what audience you are targeting. Finally, changing one word in your headline can be the difference between a $10 cost per purchase and a $4 cost per purchase. 
Testing is the root of all success when it comes to online advertising. Facebook and Instagram have given us an amazing opportunity to test multiple different audiences and ads to truly understand our customers and find success. No idea is wrong until proven with numbers. 
PRO TIP: Focus in creating UX, or user based, designs and copy. Understand the audience you are targeting and speak to them directly. For the example above with the Lakers store, you would see less success if you put a black shirt and a simple buy now button compared to putting an awesome picture of LeBron James and copy that says "represent Laker nation." 
Resonate with your customer to find success. If you try cookie cutter copy and image for all your audience, your ads will not yield strong results. 
Carrying this success into 2021
Knowledge is power and your Facebook pixel is your personal library of your customers information. When installed correctly your Facebook pixel will collect all of your website engagement. Combining the power of your Facebook pixel with your successful ads and audience that you tested will give you a clear understanding of how to find success in the future! The analytics tab in your Facebook business manager can help you understand your audience, your purchase rate, bounce rate, funnel conversion values, and more! Make sure to create Lookalike audiences, this is a Facebook created audience by finding customers that are like the ones that have already engaged with you. You can make this audience from your website, your social pages, and even your event engagement. 
Ads get stale. As a 21st century business owner you need to be focused on always creating content!
We know creating content can be a pain, but we recommend you find a good marketing agency like us that can create awesome content that aligns with your business and, furthermore, promote that content to help your business scale.
Coming into the holiday season and the biggest shopping day of the year, Black Friday, are you prepared to take advantage of online advertising?
Does all of this sound amazing but a huge pain to develop, test, and refine? Are you not sure if you should run traffic, conversion, or engagement campaigns on Facebook and Instagram? Connect with us today to develop a full campaign from content creation to online sales!
If you think you're ready to dive into the world of influencer marketing, don't hesitate to reach out to us!